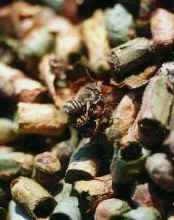 Loose cells of Megachile rotundata

Introduction
Alfalfa leafcutting bee management techniques vary with each farming operation. The time devoted to bee management and the decisions regarding the pollination process must be compatible with farm resources and therefore are highly individualized. Bee management becomes a mixture of techniques, good and bad, that are "tradeoffs" consistent with the individual farmer's objectives and resources.
To aid the grower in analyzing these tradeoffs and in reaching decisions that optimize seed production for his particular operation, we have attempted to list the advantages and disadvantages of methods and techniques developed over the last 30 years of alfalfa leafcutting bee management. The options are listed in five sections for quick reference: winter, spring, summer, fall and other considerations. The grower must develop those methods best suited to his farming operation and devote the time necessary to manage the bees properly.
If you have comments, corrections, or additions to the information provided in this document, contact Karen.
Click on one of the options below or at right for information on bee management.
WINTER MANAGEMENT:
Controlled cold storage, shed or barn, or leave in field?
SPRING MANAGEMENT:
Incubation, lighttraps,Dichlorvos
SUMMER MANAGEMENT:
Shelter placement, inspection, spray recommendations
FALL MANAGEMENT:
Remove nests from the field, evaluate nests.
OTHER CONSIDERATIONS:
Phase out
Shelter Size and Design
Nesting Material
Buying bees and/or loose cells
Sanitation
Avoiding theft; Purchase precautions.
Hugh W. Homan was former Extension Entomologist and Leslie P. Kish was former Professor of Entomology, at the University of Idaho Department of Plant, Soil and Entomological Sciences, Moscow. Craig R. Baird is Extension Entomology Specialist at the Parma Research and Extension Center, Parma ID. Norman D. Waters is Emeritus Research Professor of Entomology, Parma. Ron M. Bitner is a private consultant from Caldwell, Idaho. Karen Strickler was former Pollination Ecologist at the Parma Research and Extension Center, Parma ID.